Priority 2: Housing Compound
Challenge
The hospital is about 15 kilometres from the primary residential area in Lubango. At night on call physicians must make the trek to the hospital navigating dense traffic and poorly lit street. Lack of housing for staff is a deterrent for new staff to come to the hospital.
Solution
Long term housing on the site of the hospital.
Site Development Plan: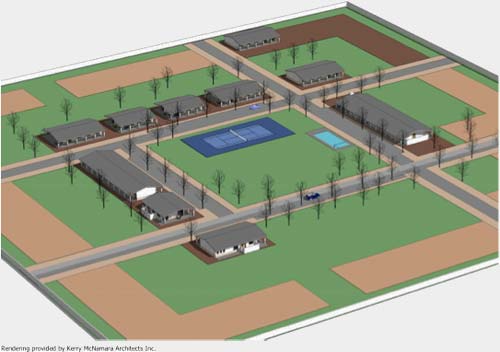 To accommodate growth needs the new Housing Complex will house:
3 surgeons/Internists
1 Pathologist
1 OB/GYN Specialist
7 residents/physicians
In addition, the Compound will provide short term housing for international medical teams providing volunteer services.
Infrastructure upgrades include:
Additional water supply and capacity to store water
Trickle filter sewage treatment plant
Electrical infrastructure improvements
Cost: $9,300,000
To receive the full copy of the strategies and outcomes for Phase 2, contact Mark Faus. Donations are accepted online through MAF Canada and MAF US. Please designate your funds for CEML.